The 51st edition of the New Directors/New Films festival begins April 20 and runs until May 1. The festival has a long track record for identifying first-time directors who later went on to have exalted careers: Pedro Almodóvar, Kelly Reichardt, Atom Egoyan, Spike Lee, Richard Linklater, Sally Potter, John Sayles, Steven Spielberg, Wim Wenders, and Wong Kar Wai. The qualification of "first-time" film has been stretched over the years to sometimes include a director's second or even third film–as long as it is an early film that has identified them as a promising director.
This year's slate includes 26 features and 11 shorts for a total of 39 works by new directors. An astonishing 21 of these directors are women, the first time in the festival's history that women directors are in the majority! There are films from the U.S., China, India, Norway, Argentina, Mexico, South Korea, France and Rwanda.
Screenings are being held at both Film at Lincoln Center and the Museum of Modern Art theater locations. . Many films will include Q&As with the director. Go here for the complete list of films and ticket information. Here are some of my highlights from the festival.
"Happening"
The opening night film of the festival is "Happening," a French film directed by Audrey Diwan based on a memoir by Annie Ermaux. Winner of the Golden Lion at the 2021 Venice Film Festival (it beat out "Power of the Dog!"), it portrays the cruelty and lack of support a young high school girl confronts as she seeks an abortion in 1963, when they were illegal in France.
Anne Duchesne (Anamaria Vartolomei) needs to pass her entrance exams so she can advance to collegiate literary studies and hopefully become a writer. Surprised when a doctor tells her she is pregnant she reacts in disbelief initially but as the weeks proceed and her belly gets bigger and she misses her period she desperately looks for options to terminate the pregnancy.
On-screen titles tell us what week she is in and the action of the story is restricted to the first trimester of her pregnancy. (In 1975 abortion became legal up to 12 weeks in France and that was extended to 14 weeks only just this February. 14 weeks is still a lower time frame than that allowed by many other European nations and U.S. states.)
With the threat of federal and state rollbacks of Roe v. Wade here this searing depiction of the misery Anne goes through couldn't be more timely. She can't discuss it with her fellow students–they fear they could go to prison just for not turning her in. One insincere doctor pretends to help her by giving her a prescription that actually helps to strengthen the embryo. The man who made her pregnant won't help her. Her mother (played by French film veteran Sandrine Bonnaire) is unsympathetic. A self-attempt to abort her fetus goes awry so she seeks the help of a covert abortionist.
Diwan tries to be neutral and the tone of the film is often that of a thriller, but there are also some fascinating scenes depicting the dating rituals of high school girls and boys in rural France in the early 1960s.
The film was shot in the 1.37:1 "Academy" picture ratio (not widescreen) which is unusual for today and I suspect that decision was made to make Anne's life and choices feel even more cramped. Anamaria Vartolomei's intense performance has not gone unnoticed. She won a César (the French equivalent of an Oscar) for her work in "Happening."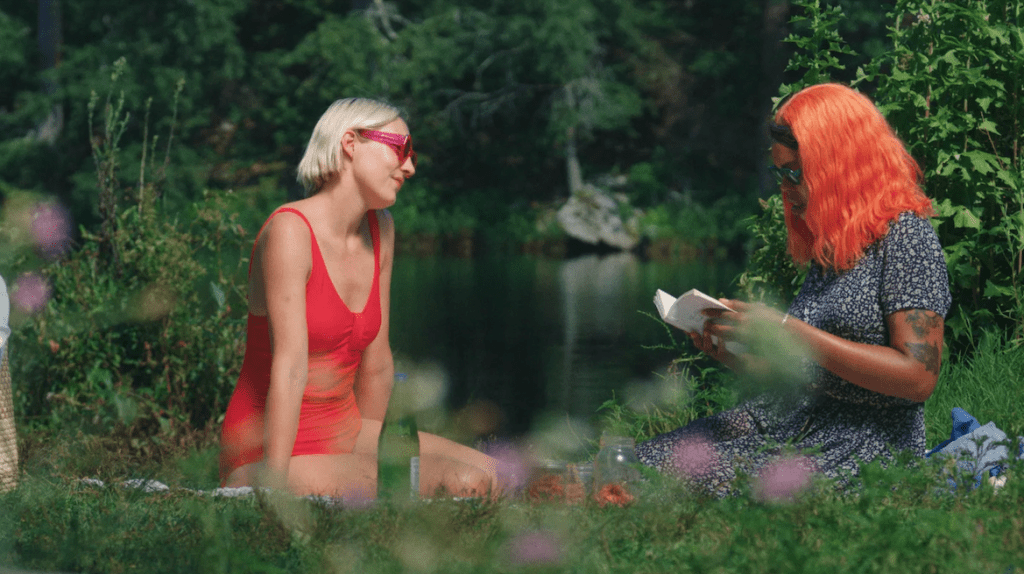 "The African Desperate"
The closing night film of "New Directors/New Films" is a highly original stoner comedy set in the final day in 2017 of a graduating MFA student at an upstate New York college. Directed by 34-year-old visual artist Martine Syms, the art school scenes were shot at Bard College, the same highly progressive liberal arts school where Syms got her MFA.
Syms cast her fellow visual artist Diamond Stingily as Palace, a tall black woman with dyed-red hair whose art work is met with both patronizing praise and jealous condemnation (she's already showed work at the Venice Biennale!) during her final critique session with her faculty. Filling out the middle is a pretentious critical studies professor who babbles some crit-lit non sequitors.
Palace defends her work with quotations from critical theory books; she's learned the way academic art works today with statements of intent and good bibliographies being as important as the art work itself. Bard College is often caricatured as a super-woke institution (it's the only school deemed officially "undesirable" by Russia!) that boasts a large list of celebrity graduates and was the subject of Steely Dan's song, "My Old School." I have some experience myself of the MFA art program mores she is satirizing and can report that much of it is on target, though some of the jokes don't deliver. But this is not Terry Zwigoff's "Art School Confidential," after all, though they'd make for a great double feature.
Palace's roommate and all of their weird, lovable classmates urge her to attend that night's graduation party but she (in a beautifully deadpan performance) just wants to pack for her trip back to Chicago the next morning. (Syms got her undergrad art degree at the Art Institute of Chicago.)
A visit to a friend's house to do laundry turns into a crazy few hours of 'fridge hoarding, primping (a fellow artist has given her an outrageous dress to wear that night) and a series of frantic Facetime calls: you're supposed to DJ tonight, Palace! Already a bit wasted before she even gets there, the (curiously under-populated) party turns into an all night series of visits to artist studios, each with their own sexual intrigues, character revelations and more and more drugs. Though polyamorous, Palace's crush on a white male MFA student who has been indifferent to her in the past is tested with cringeful results.
This art school walpurgisnacht is rendered vividly by  Stingily's star-making performance, a great cast of young actors (Erin Leland, Cammisa Buerhaus, Ruby McCollister) and director Syms' wild, endlessly inventive visual style.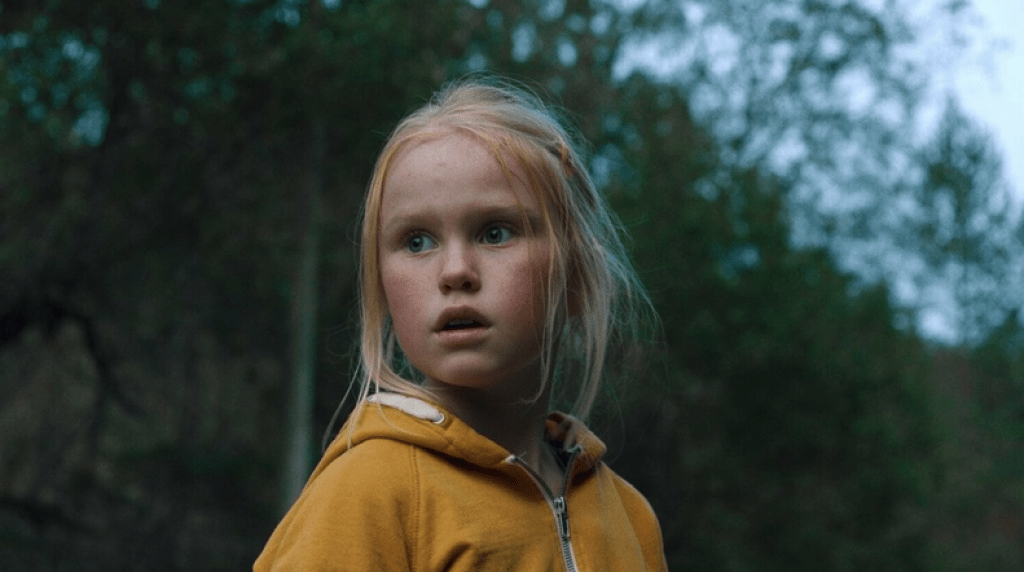 "The Innocents"
Writer/Director Eskil Vogt's brilliant supernatural horror thriller "The Innocents" seems destined to be the next big hit in the recent trend of beautiful but creepy art house horror films such as "Hereditary" and "Midsommar." Not to be confused with Jack Clayton's 1961 film of the same name (which was also about children with–in that case, suspected–supernatural powers), the children here think their newly found powers (telekinesis, reading minds remotely) are merely rare skills they enjoy.
The children live in a high rise apartment complex in the woods of Norway. It's summer and many of the tenants are away. Ida (Rakel Lenora Flottum) and her older sister Anna (Alva Brynsmo Ramstad), who suffers from regressive autism and can't speak, spend lots of time playing with other children in the building's playground unaccompanied by parents. (This alone will prove unsettling for many American parents today!)
Ida is not above playing tricks on her disabled sister and the unnerving cruelty otherwise innocent children can sometimes display becomes elevated after she meets Ben (Sam Ashraf). He seems nice at first as he demonstrates his ability to make bottle caps move with his mental powers. But one dead cat later (not a pleasant scene for animal lovers!), she realizes how dangerous he may be. Another friend, Aisha (Mina Yasmin Bremseth Asheim), has developed the power to read minds from a distance, a power Ida and Anna also develop.
Vogt, who has written screenplays for fellow Norwegian Joachim Trier ("The Worst Person in the World") obviously never believed in the old Hollywood caveat about never working with "animals and children." The children here (all less than 12 years old!) give astonishing, unforgettable performances. Sturia Brandth Grovlen's cinematography, Gustaf Berger and Gisle Tveito's sound design and Pessi Levanto's soundtrack contribute much to making this an intense and remarkable experience.
"The Innocents" is being distributed in the U.S. by IFC Midnight. I love the poster for this film: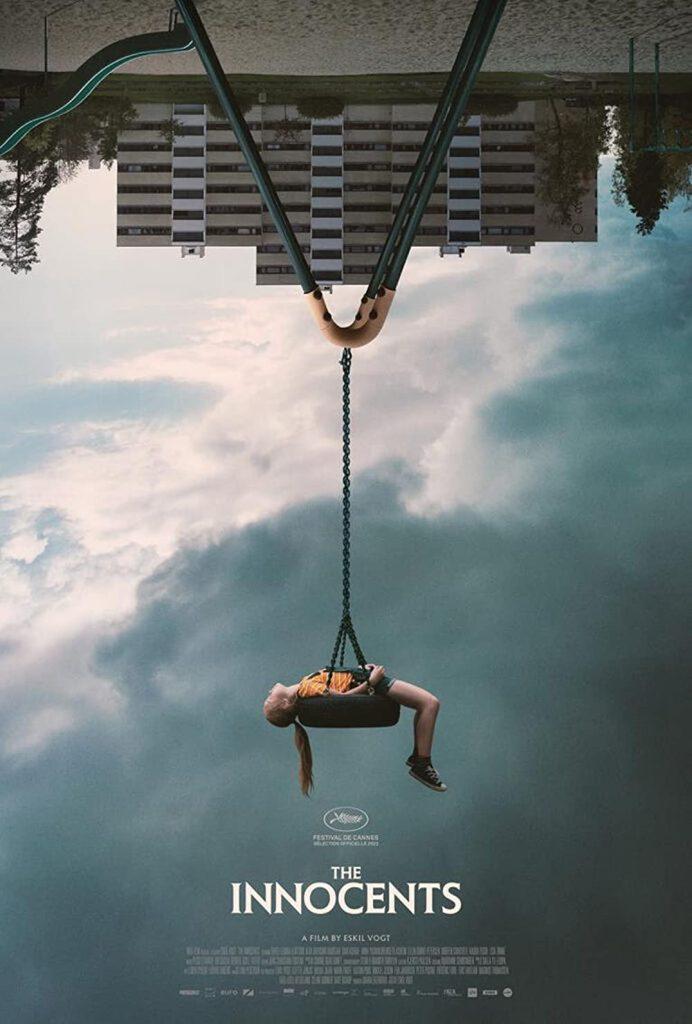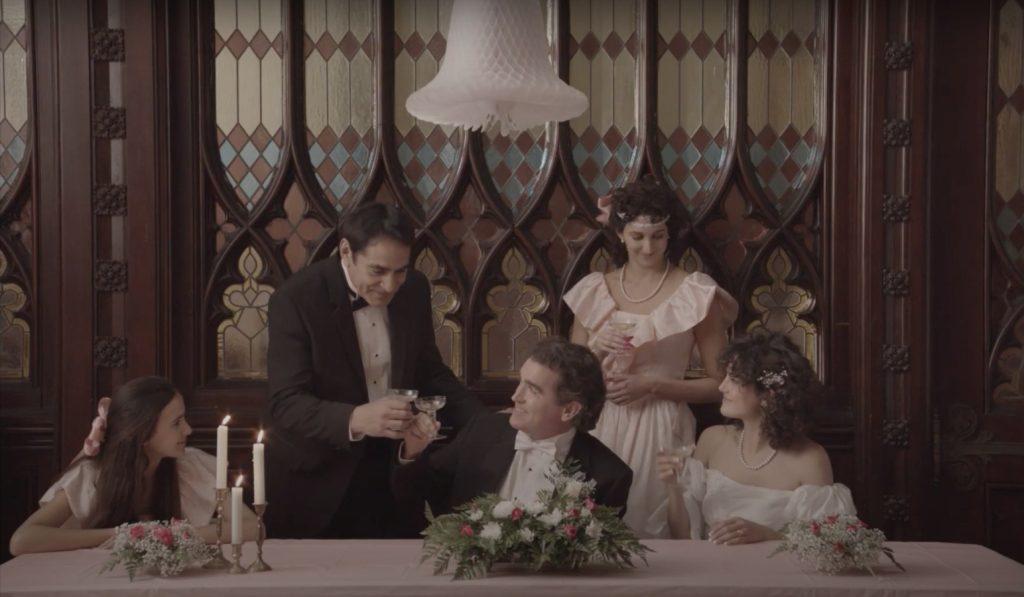 "The Cathedral"
"The Cathedral" is American indie director Ricky D'Ambrose's semi-autobiographical portrait of a boy, Jesse Damrosch, from birth in the late 1980s to just before he goes to college. An unnamed female narrator relates intimate details of the story, which is about the miserable family life Jesse endures for his first eighteen years. His father, Richard (Brian d'Arcy James, who gives a brilliant performance), runs a successful printing agency, gets divorced, marries a second woman who exploits him after getting her green card and goes out of business when digital printing makes his company obsolete.
The narrative structure of the film is unique. Even though much of the family melodrama is filmed conventionally (and very well, with the level of acting and production quality you'd expect in an HBO drama series), the scenes shown are curiously fractured with narration sometimes filling in the gaps. Archival footage from the two decades it depicts are cut into the film to suggest some relationship between world events and the family history of the Damroschs. Most startling of all is how angry and clueless the men (and some of the women) are in the family, constantly bickering, unsympathetic to the needs of older family members, and often giving out ridiculous advice, such as "don't use the silverware they give you in a restaurant."
It's a wonder that Jesse (beautifully played by two actors: Robert Levey II and William Bednar-Carter) survives all of this to stay a basically sweet but quiet boy during all of this. But impressions vary widely between members of a family. In one key scene during a photography class, Jesse explains that an old family photo doesn't bring back memories of the subjects in the photo but rather what the light in that room in his house looked and felt like. In other words, he is a visual artist.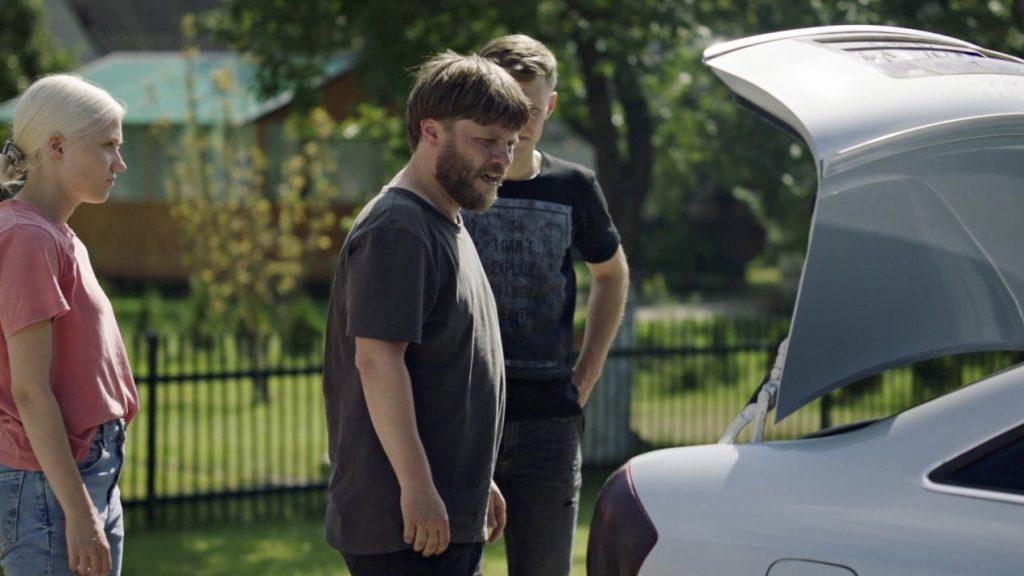 "Pilgrims"
Lithuanian filmmaker Laurynas Bareiša's "Pilgrims" is a about a man (Gabija Bargailaite) who travels to the town where his brother was kidnapped and murdered. He's convinced the people of the small town know more about the crime than they told the police and they may even have been able to rescue him. He takes his brother's girlfriend (Giedrius Kiela) along on his often perilous journey as they provoke memories from the locals who would rather forget about the incident. This is a brilliant slow burn of a movie as the couple recreate the crime as part of the mourning process.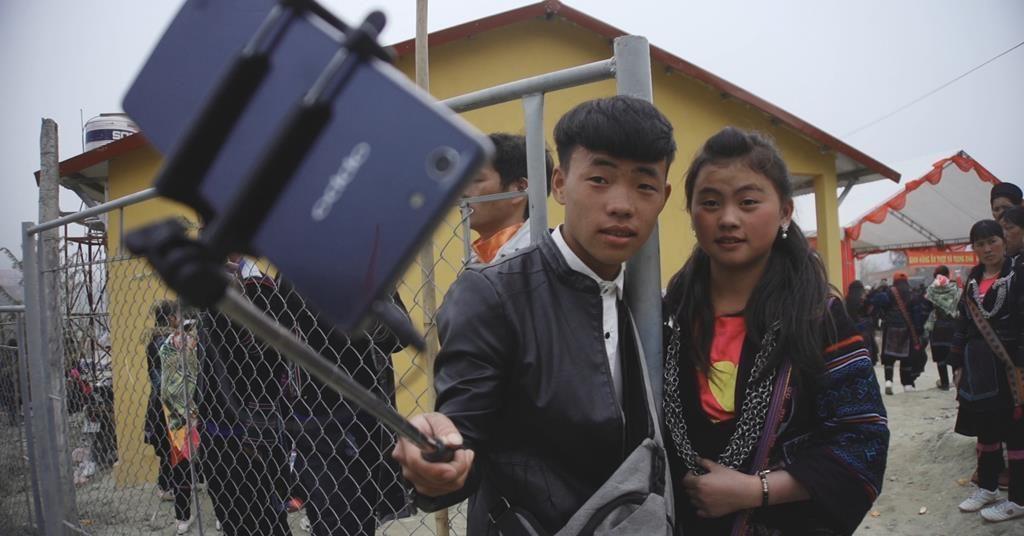 "Children of the Mist"
12-year-old Di is a member of the indigenous Hmong ethnic minority living in the Northern mountains of Vietnam. Though she and her family live in poverty, they have abundant crops, she is going to one of the first schools for the Hmong, has a cellphone and is full of optimism and joy. But an old matrimonial tradition of permitting girls her age to be stolen and forced into marriage may end all of that.
Vietnamese filmmaker Diễm Hà Lệ has made an extraordinarily beautiful and moving documentary and found the perfect subject for it in "Children of the Mist." Filmed in the style of Direct Cinema, with no narration and very little acknowledgement by the people being filmed that they are being filmed, what may be most amazing about this alternately joyous and heartbreaking documentary is perhaps the fact that it is a documentary.
Other films, Shorts Programs
I also liked the radiant but sad "Dos Estaciones," which is worth watching just to see how tequila is made. Some films I was unable to see before this review that I want to see are "Onoda, 10000 Nights in the Jungle," the documentary "Fire of Love," "Blue Island," "Full Time" and "The Nanny."
There are two programs of shorts on April 25 and 27. I'll be writing about them later.
Watch this video of three of the series programmers discussing the series.
A playlist of trailers for each film in the series.