Gucci is still one of the world's most famous luxury goods brands, despite the fact that the Gucci family is no longer associated with it. In 1921 Glaudio Gucci, informed by his work as a bell hop in London that exposed him to the tastes of the wealthy in luggage and fashion, opened a luggage store in Florence, Italy. He used leather made by local craftsman, later developing a unique tanning technique to produce "cuoio grasso" (fat leather), a Gucci trademark. His son Aldo invented the famous Gucci double-G logo (Glaudio Gucci). Another trademark of the brand was the "Rombi motif" (rhomboid pattern). Aldo's brother Rodolfo was an actor in Italian cinema in the 1930s and early '40s. Later he worked for the family business, designing the famous Flora scarf for Grace Kelly. After Glaudio's death the business expanded worldwide. Its first ad tagline was "Quality is remembered long after price is forgotten."
Members of the Gucci family were involved in a feud during the 1980s that precipitated the fall of their family fortune and this is the story (based on a book by Sara Gay Forden) director Ridley Scott portrays in "House of Gucci." Rodolfo's son Maurizio is uninterested in the family business and studies to be a lawyer. A chance meeting with Patrizia Reggiani (Lady Gaga), daughter of a trucking company owner, leads to her romantic pursuit of the shy, awkward Maurizio. Rodolfo doesn't approve of his son's uncultured fiance (she mistakes his famous Klimt painting for a Picasso; he thinks she is a gold digger) and writes him out of the will. Maurizio is initially charmed with the simpler life of living with Patrizia's family and working for his father-in-law. Aldo (Al Pacino) tries to bring Maurizio back into the Gucci line by appealing to Patrizia. He gives the couple free Concorde tickets to New York and wows the middle-class Patrizia with "family discount" visits to the Manhattan Gucci store and suggestions of how well they would live if her husband accepted a Gucci job offer.
Aldo's own son Paolo (Jeremy Leto) is an aspiring designer with little talent. "He is an idiot," Aldo says, "But he's my idiot." Paolo is also a poor negotiator, reacting to Rodolfo's dismissal of his fashion portfolio by urinating on the Flora scarf in his uncle's house! After Maurizio and Patrizia move to New York, Patrizia begins to conspire with Paolo to get Aldo's shares of the company, an intrigue that lands Aldo in jail for tax invasion. Patrizia's ambition backfires. Maurizio sends her and their daughter back to Italy, begins an affair with a friend from his youth and takes a newfound interest in the future of the company. His lack of real business acumen and Patrizia's jealously, fanned by a TV psychic (Salma Hayek), set off a serious of tragic events.
Though a bit overlong (two hours and 38 minutes) Scott's nimble direction (and Claire Simpson's great editing) makes the story energetic and fun as the characters travel back and forth between New York, Milan and the Swiss Alps with the slimmest of transitions. The costume and production design are also a marvel. The soundtrack is full of delicious needle drops from opera, traditional Italian music and 80s pop songs like George Michael's "Faith," which is used to great effect in the marriage scene between Maurizio and Patrizia.
I don't agree with those who say the tone of the film is inconsistent or that Pacino and Leto's performances are caricatures of Italian speech and gesturing. Leto's Paolo is buffoonish (and his favorite exclamation is "Boof!") and the Paolo in the script is a buffoon, yet the tenderness and forgiveness Paolo and Aldo share in the last act of the film is one of the most touching scenes in the movie. Pacino's Aldo is lustful for life in contrast to his brother Rodolfo's grim nostalgia and stuffiness. Pacino and Irons embody this difference with great accuracy. And Jack Huston is superb in a key supporting role as Domenico De Sole, a Gucci financial advisor.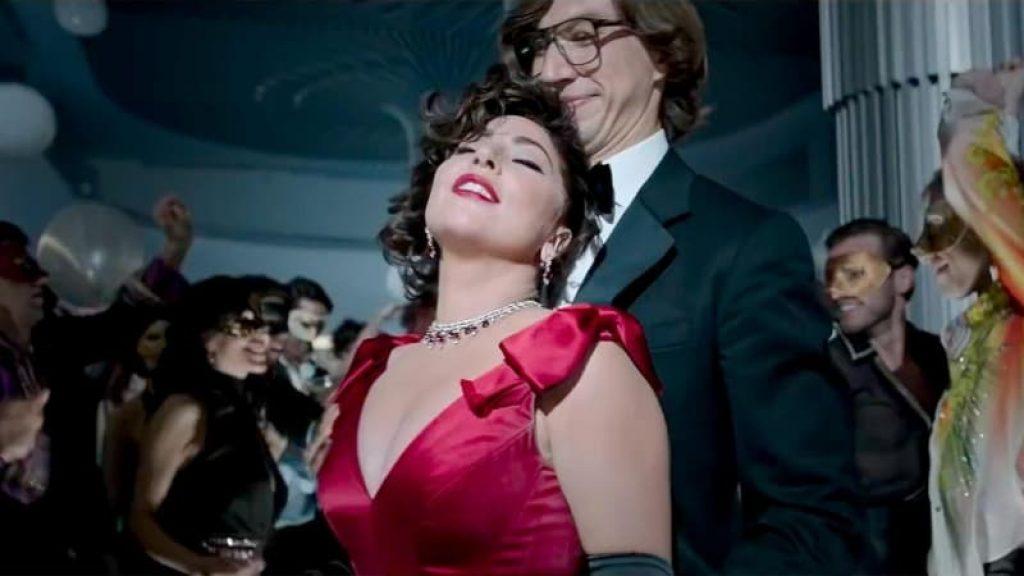 But Driver and Gaga are the focus of the film and both of them are terrific in quite different ways. Driver is as splendid at depicting Maurizio's humility and basic goodness in the beginning of the film as he is playing his slow transition into a "real" Gucci. Gaga's performance as Patrizia is amazing. You can't take your eyes off her as her character works so hard to read every room in House Gucci, constantly reassessing the way to charm her way to the top, and furious and hurt when she gets it all wrong.
A Marxist reading may demonstrate why this film is not just a melodrama of the rich and famous but pretty close to being a masterpiece about the realities of class in late capitalism. Patrizia is a social climber and a marriage above her class ought to ensure her entry into the that class. The Guccis are only two generations away from humble origins themselves. But again and again she is reminded that she is not really a Gucci, not a Gucci by birth.
Yet the Gucci's are not royalty, even though they made a scarf for the Queen of Monaco. They achieved class by their wealth and the quality and popularity of their brand. In an earlier era, a Patrizia may have had better luck marrying into wealth and assimilating their cultural values. Ultimately she is rejected not because of her economic class origins (her own father was a very successful businessman) but because she is deemed to be off-brand and because she is unable to match Maurizio's more flexible options regarding his economic class (rejecting it, then accepting it).
Aldo has a more realistic reading of the realities of capitalism than his brother or niece. Confronted by Patrizia with cheap Gucci knock-offs from Canal Street, he admits the company actually profits from them.
Ironically, a few decades later the brand would be associated with nouveau riche rappers (Gucci Mane) and ads that referenced a new porn chic. Meanwhile, Maurizio saves his company by selling shares to foreign investment corporations, a move that ultimately severs the company and brand from the family name that founded it. In a new stage of capitalism defined by globalism and brands based on advertising campaigns and brand management rather than the familial brand management of the first three generations of the house of Gucci, Maurizio was doomed even before Patrizia made him history.
The Blu-Ray, available beginning on February 22, 2022, also includes a DVD copy of the film and a coupon for a digital download of the feature. Extras include three informative background featurettes: "The Rise of the House of Gucci: Making Of," "The Lady of the House" and "Styling House of Gucci."