Billy Wilder got the idea for "The Apartment" from a scene in David Lean's classic 1945 film "Brief Encounter" in which a cheating couple uses a friend's apartment for a tryst. The situation violated the Hollywood production code and he didn't get around to using it in a film until 1960. (It was released the same month as "Psycho.") Most reviews were good but some critics objected to its depiction of infidelity and accused it of bad taste. An elderly woman told Fred MacMurray (cast against type in the film) that it was a "dirty filthy movie." Nevertheless it was a commercial hit and was nominated for ten Oscars and won five, including Best Picture, Best Director and Best Screenplay. Wilder became the first person to win three Academy Awards in one night.
Jack Lemmon (who had a breakout role in the film Wilder directed just before this, "Some Like It Hot") plays C.C. "Bud" Baxter, an insurance clerk who lets higher-ups in the company use his apartment for extramarital flings. He is smitten with an elevator operator (a radiant, pixie-ish Shirley MacLaine) but doesn't know that she is having an affair with his cynical boss (Fred MacMurray.) This was Wilder's third screenplay collaboration with I.A.L. Diamond and he has said (according to Joseph McBride) that this is his favorite of his films because it was the one where he accomplished the best combination of comedy and drama. Since 1960 the film has become a classic and one of the most beloved romantic comedies of all time.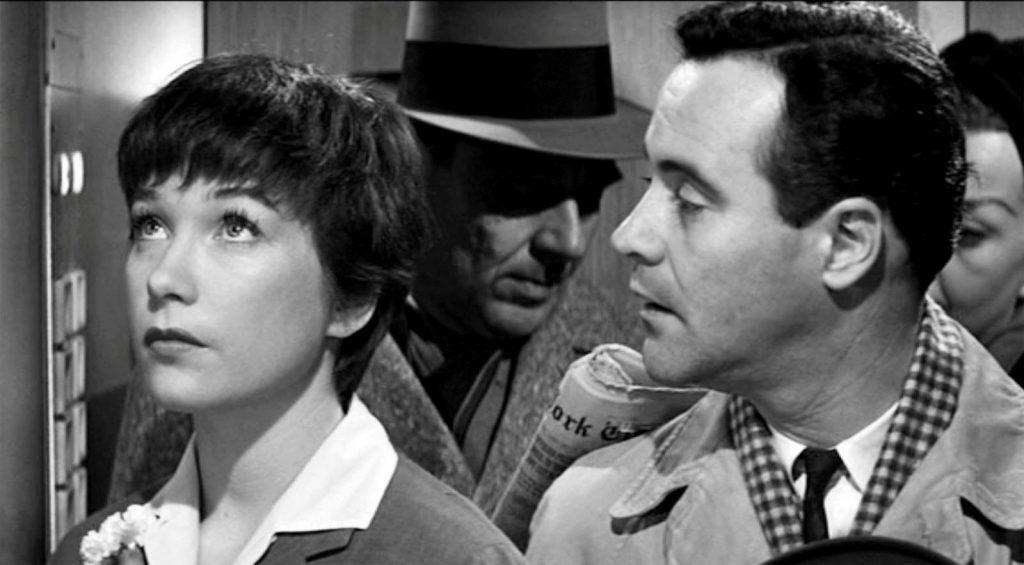 A 2017 blu-ray edition of the movie was struck from a 4K restoration. Now Kino Lorber has released the 4K version along with the blu-ray disc. A 5.1 mix and the original 2-channel soundtracks are included on each disc. The picture quality is excellent; we get a heightened appreciation of the art direction of Alexandre Trauner, who famously used forced perspective in a scene of a huge insurance company office. Trauner used increasingly smaller desks and children in suits in the back to make the office look ridiculously large.
An exciting extra for this release is a new audio commentary by film historian Joseph McBride, author of the new book, "Billy Wilder: Dancing on the Edge." I've been a fan of McBride's writings for a long time and he did a podcast with my friend Adam Schartoff recently which I highly recommend. In his commentary he talks about the critical response to the film in 1960, the different style of collaboration Wilder had with I.A.L. Diamond than his previous co-scripter Charles Brackett, Ernst Lubitsch's influence on Wilder, the risk of having an attempted suicide scene in the film and other topics. There is a second audio commentary by film historian Bruce Block that is more of a scene by scene analysis and it is also very good. I recommend listening to both if you want a deeply rich understanding of this important film.
Other extras include the 2007 documentary "Inside The Apartment," a short featurette "Magic Time: The Art of Jack Lemmon," the original trailer and optional English subtitles.