(above: Baishô Chieko in "Plan 75")
Hayakawa Chie's 2022 film "Plan 75" depicts a dystopian near future Japan in which the growing numbers of elderly people strain the economy so much the government creates a free assisted suicide program for citizens aged 75 or older. The film, which received a "Mention Spéciale" at last year's Cannes Film Festival, opens this Friday, April 21 at IFC in NYC with the director in person for the 4/21, 4/22 and 4/23 screenings and 5/5 in Los Angeles (Laemmle Glendale).
The idea of encouraging suicide for elderly Japanese was recently in the news because of a Yale professor's misunderstood discussion of it; he was advocating for the voluntary resignation of elderly Japanese people holding key positions in government, business and academia, not a lemmings-like mass suicide to control population.
The escalating cost of social security, medicare, and assisted living for the elderly are hot political topics in the U.S. as well. It's important to remember that prior to the second world war, the majority of households in this country were multi-generational. It was the post-war economic boom that began to allow more young people to move out and begin families in homes of their own. Now that trend is reversing itself and many people find themselves having to be caretakers of their parents in their final years.
Chie, who studied photography at SVU, could have made a frightening, paranoid thriller about the Darwinian proposal. (And there is a touch of this in a flash forward in the film's opening scene that is curiously not reprised in the ending–maybe it was a fantasy?) Instead she tells a quietly intense story of several people who work for the company administering the program and their patients. Michi (played beautifully by veteran actress Baishô Chieko) chooses the program after losing her hotel maid job. Hungry for human connection, she goes bowling with a customer service agent (Kawai Yuumi). (Which is against company policy–a new friendship may give patients a refreshed lust for life!)  Hiromi (Isomura Hayato) is a recruitment agent for the plan who discovers that one of his recruits is an uncle he hasn't seen in years. A young Filipino woman (Stefanie Arianne Akashi) takes a job at the company when her daughter needs extra medical care.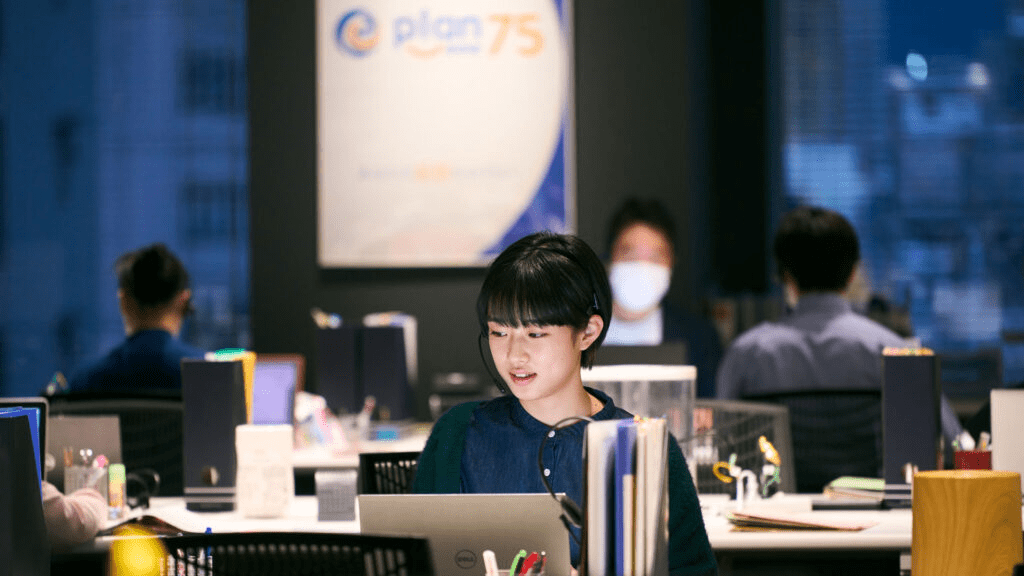 Loneliness and poverty are the factors that have driven most of the enrollees to opt in–they are given an $800 incentive for joining the program. And we are told that there is a move to reduce the minimum age of enrollment to 65. (Think of the mass protests in France going on now because the retirement age was increased from 62 to 64 years.)
In an early scene Michi trims her finger nails and deposits the clippings to her houseplants. I never knew about the practice of using nail clippings as plant fertilizer and the scene is a wonderful metaphor for the circle of life and for her character's sense of duty to living things, her aching desire to keep living after society has found no further use for her services. Chie's powerful, heartbreaking film is filled with tiny observations like this that speak volumes about the indignities of old age and Capitalism's sick priorities.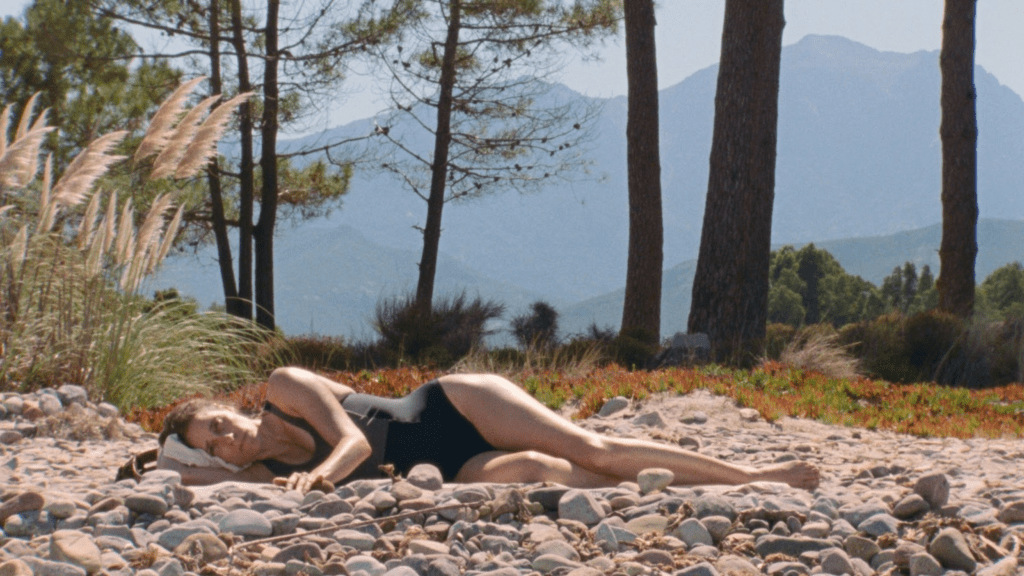 NYC's Metrograph Theater is currently screening the work of German director Helena Wittmann to accompany her latest feature, "Human Flowers of Flesh." Go here for more information and tickets.
Wittman was a cinematographer first. The visual splendor and mystery of the sea was a huge theme in her 2017 debut feature "Drift" and it remains an obsession for her latest film. Ida (Angeliki Papoulia, who also starred in Argentinian director Gastón Solnicki's 2022 film "A Little Love Package") lives in a sailing yacht off the coast of Marseilles with a five man crew. For unclear reasons she has become interested in the French Foreign Legion and sails to Sidi Bel Abbès, the Legion's former headquarters in Algeria. Once there she meets a former legionairre (Denis Lavant, playing Galoup, the same character he did in Claire Denis's 1999 film "Beau Travail")
This is an unconventional narrative work that will frustrate viewers not open to experimental storytelling but if you give it a chance you may find yourself marveling at the often hypnotic imagery: an amazing dive deep into a murky blue sea to reveal a downed aircraft, paratroopers moving through a forest for a never revealed mission, one sailor's odd use of pressed leaves as some kind of currency, and a sequence made to resemble blue cyanotype printing.
The retrospective also includes a selection of Wittmann's shorts, her debut film Drift, and an in-theater lecture by Wittmann inspired by Éric Rohmer's 1986 film The Green Ray. Whittmann will also be in attendance at selected screenings. You can read her interview with the Metrograph's Chloe Lizotte here.