Yujiro Harumoto's "A Balance" is both a sensitive Japanese family drama and a powerful indictment of the myth of balanced investigatory journalism and its unfortunate contribution to public shaming. It is playing at Manhattan's IFC Center beginning Friday, March 11 for one week as part of the ACA Cinema Project series: "New Films from Japan."
Yuko (Kumi Takiuchi), is a TV documentary director working on a film about a scandalous relationship between a young female student and a teacher that ended in a double suicide. Her clients just want "a routine piece on bullying" but she pushes to get interviews with family members who have been ostracized by a very conservative Japanese society just for being related to the victims or malefactors. "I can't take a side, but I can shine a light," she reassures the wife of the teacher suspected of having sex with the girl who killed herself. It becomes clear, though, that Yuko is not above manipulating her subjects a bit in order to get them to open up and (as her producer says) make the TV piece "more punchy."
Yuko has a second job (the Japanese economy has still not recovered from the 1990s!) working at her dad's private tutoring business (called a "Cram school") in the evening. She begins giving personalized attention to one student, Mei (Yuumi Kawai), after discovering that she is pregnant and living alone with a deadbeat dad. When she learns who the father of her child is, she has to reassess her professional standards of "balance" as the story leads to a shocking conclusion.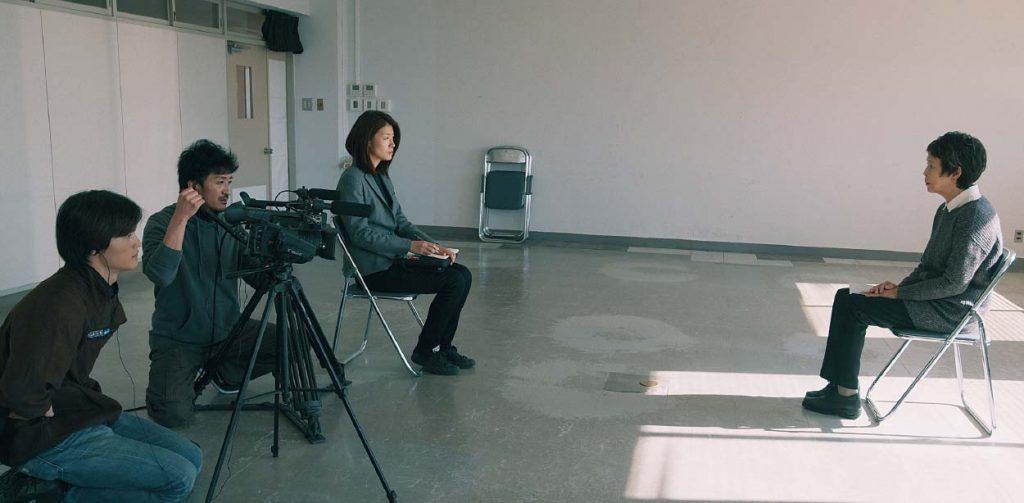 In several important scenes Yuko uses her smart phone to film people she is questioning in her own life–her employer, her dad (Masahiro Umeda)–as if to challenge them to be truthful because they are being documented. Of course, a documented statement is not necessarily true, it is just evidence that someone said something. As her investigation proceeds she begins to realize how unreliable her truth-digging methods may be. When the man who thinks he is the father of Mei's child offers to confess, Yuko warns him that this may free himself but "society will be harsher than the law" and he should work with her to lessen the burden for everyone involved.
Harumoto's 153-minute film moves with the unhurried pace characteristic of most Japanese family dramas; the tensions build slowly and the excellent framing and lack of soundtrack music combine to make the highly emotional scenes even more devastating. The performances are all great; he has the characters interact with the often cramped sets in ways that reveal much more than is said: the messy kitchen in Mei's apartment, newspaper used to cover up the windows of a woman who must move often to avoid being targeted by neighbors. Though only his second feature, "A Balance" has won several festival prizes and establishes him as an important young Japanese director.
Also playing in the "New Films from Japan" series is Keisuke Yoshida's "Blue," a boxing drama starring Kenichi Matsuyama, Masahiro Higashide and Fumino Kimura.
Watch this video for a trailer (with English subtitles) and a short interview with the director: