Maxwell McCabe-Lokos' "Stanleyville," which opens today (April 22) at the Metrograph in Manhattan, is a satire with elements of stunt/dare challenge TV shows, "The Squid Game," "Black Mirror," pop philosophy and theater of the absurd.
It opens as Maria (Susanne Wuest) is at work in a corporate office in a high rise building. (The film was shot in Berlin and Canada. She speaks German to her family, yet it's never clear where the film is set, which adds to the mystery.) A bird mistakes the window near her cubicle for just more sky and smashes into it. (Coincidentally, the same cause of death by a bird was a key plot point in Ukraine director Valentyn Vasyanovych's great 2021 film "Reflections.") The incident triggers a break in her long-brewing dissatisfaction with life, she throws the contents of her purse and wallet in a trash can and goes to a shopping mall, walking around as if she is in a fugue state.
A thin man with a backpack (Julian Richings, brilliantly creepy) tells her she has been selected from millions of possible contestants to participate in a "platinum level competition." When she arrives at the loft where the games will be held, she learns that the other four participants are mainly interesting in winning a habanero orange compact SUV, but she is only looking for a new purpose of being.
The thin man shows up (his name is Homunculus!) and puts the five of them through eight rounds of increasingly ridiculous and dangerous challenges, some with unusually long time limits. Though the ending isn't as inspired as the rest of the film, what makes it such a fun ride are the very funny performances of the six leads.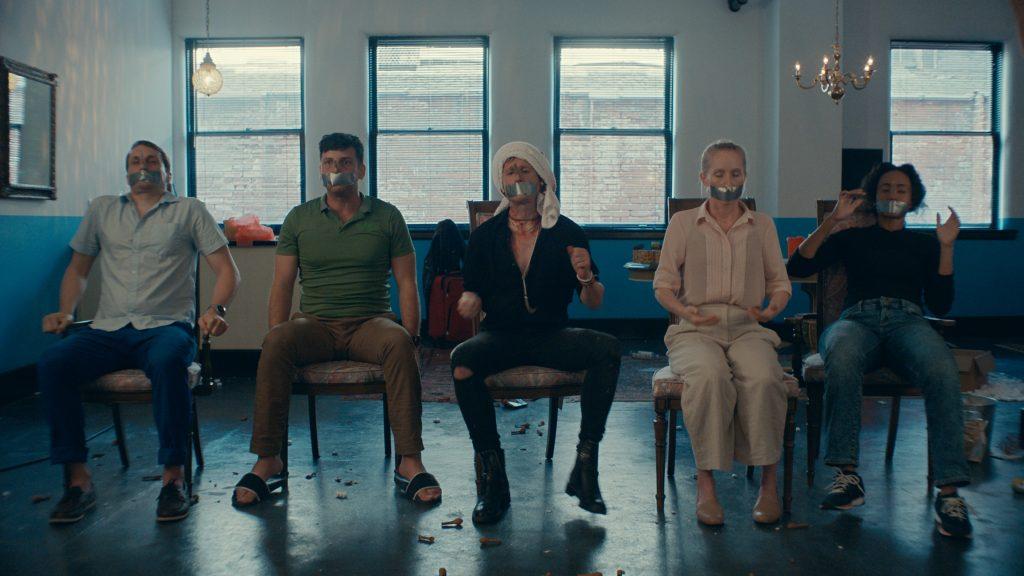 There's Maria Barbizan, the lady with the existentialist crisis, who fashions a mysterious telecommunications device out of a conch shell and miscellaneous wires. Andrew Frisbee, Jr. (Christian Serritiello), a British, manic, spoiled, rich financial player who gets mad every time Homunculus leaves out the suffix of his name and who takes a frenzied interest in preparing the correct protein shake mixtures for Bofill Pancreas (George Tchortov). Bofill is a muscle-bound protein shake entrepreneur from South America, filled with optimistic salesman self-delusion tempered by a delightfully sweet disposition. Manny Jumpcannon (Adam Brown), on the other hand, is a narcissistic entertainer who still can't manage to write a good international anthem given thirteen hours to compose it. And Felicie Arkady (Cara Ricketts) is the one most focused on winning that habanero orange compact SUV.
None of these performers may be familiar to American audiences but they are all sparkling here and the thrill of discovering such a wealth of talent makes up for the weaknesses of the final act. Julian Richings is a veteran Canadian actor and his unpredictable taskmaster is both hilariously whimsical while also being a harbinger of death. Every time he hits the huge red bell with a hammer you'll gasp.
There will be Q&A's this weekend after showings at the Metrograph with the director and cast member Susanne Wuest. Go here for ticket information.
Stanleyville | April 22, 2022 (United States)

4.6

Photos
See all photos >>
Videos
See all videos >>
Cast
...
Maria Barbizan
...
Felicie Arkady
...
Andrew Frisbee, Jr.
...
Bofill Pancreas
...
Manny Jumpcannon
...
Homunculus
...
Delivery Man
See full cast >>
---
Countries: Canada
Languages: English