The 21st edition of "Open Roads: New Italian Cinema", a retrospective of important recent Italian films, screens at Lincoln Center from June 9 to 15. Here are some of my picks from the series. Go here for ticket information. Select films are followed by Q&A's with the film director and other guests.
The opening-night screening is "Freaks Out", Gabriele Mainetti's historical fantasy, set in 1943, concerning circus "freaks" on the run from a deranged, 12-fingered Nazi pianist who has prophesied Hitler's suicide and seeks to harness their powers to prevent it. Unavailable for review at press time, it won the Leoncino d'Oro award at the 78th Venice Film Festival and, based on the trailer, the production design looks amazing. (Check back here later for a review of it and more films from the series.)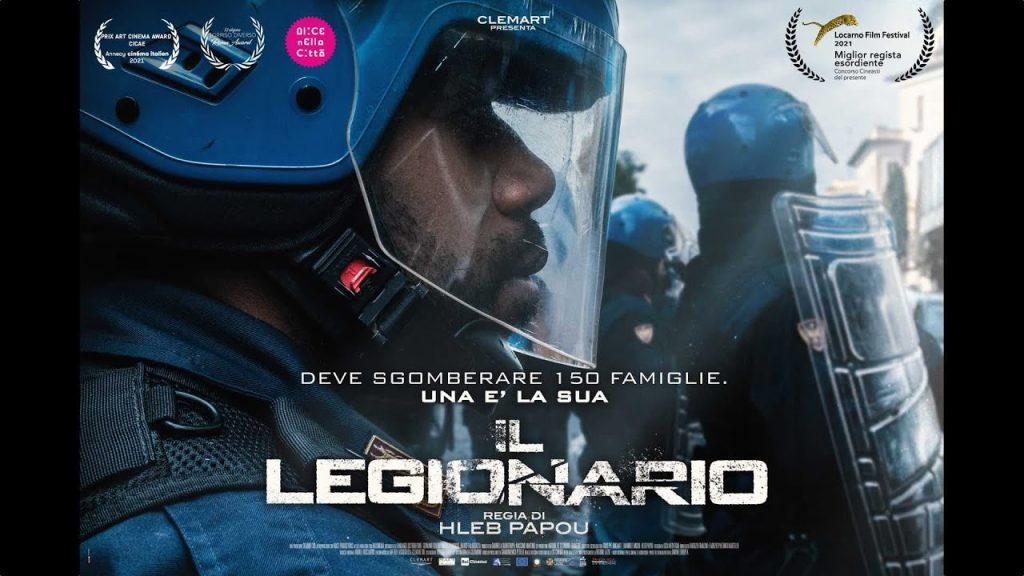 "The Legionnaire" packs a lot into its brief 82 minutes. Germano Gentile gives a quietly powerful performance as Daniel, the only Afro-Italian member of a Rome riot police unit. He's respected by his boss (who unbeknownst to him belongs to a racist far-right group) and colleagues and loves his job. During fighting practice he is assaulted by racial slurs to test his professionalism but that is only to prepare him for the real abuse he will receive during actual protests. Neither does he complain about the racist nickname ("Hot Choc") his fellow cops use for him. His white Italian wife is pregnant and he fears losing the good job that has given him, an immigrant, a comfortable life. His younger brother and mother choose to live in an abandoned building that has been occupied by a group of tenants for sixteen years. Eventually Daniel will have to participate in evicting the tenants and he must do what he can to protect his family and keep his job.
Hleb Papou's feature debut is a gripping portrayal of both the lives of the riot cops and the protesting tenants. The exciting soundtrack was composed by Andrea Boccadoro.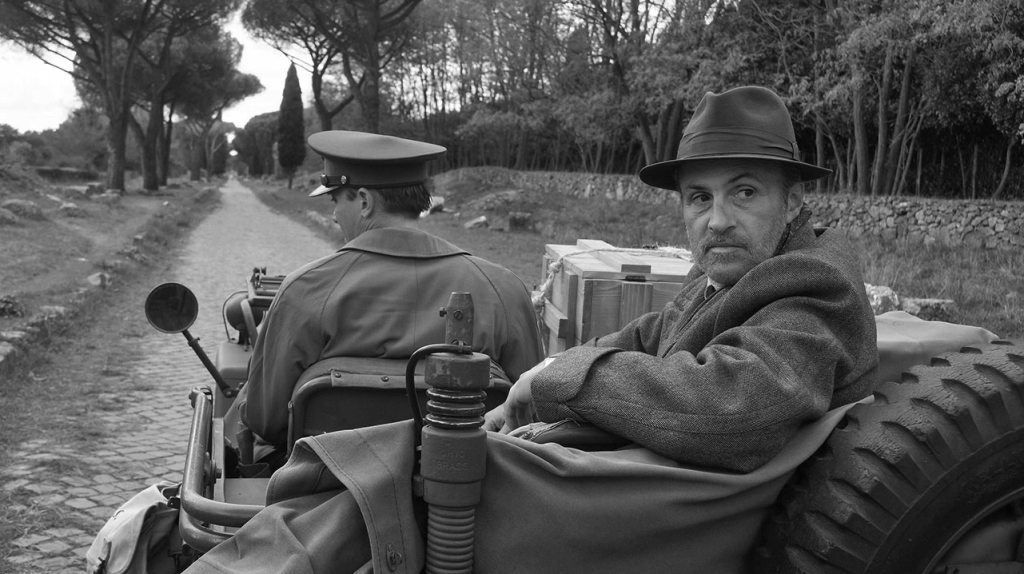 Paolo Taviani's latest film, his first without his late brother Vittorio co-directing, has some great images and scenes but it's a bit of a mixed bag. "Leonora Addio" is mostly about the transportation of the cremated ashes of Italian literary great Luigi Pirandello after WWII, with some references to classics of Italian Neo-Realism and even a previous Taviani film and then it ends with a dramatization of "The Nail," one of Pirandello's last short stories. There are many beautiful, moving moments in each part of the film but "The Nail" (filmed in color and set in Brooklyn) seems tacked on rather than being integral to the whole story.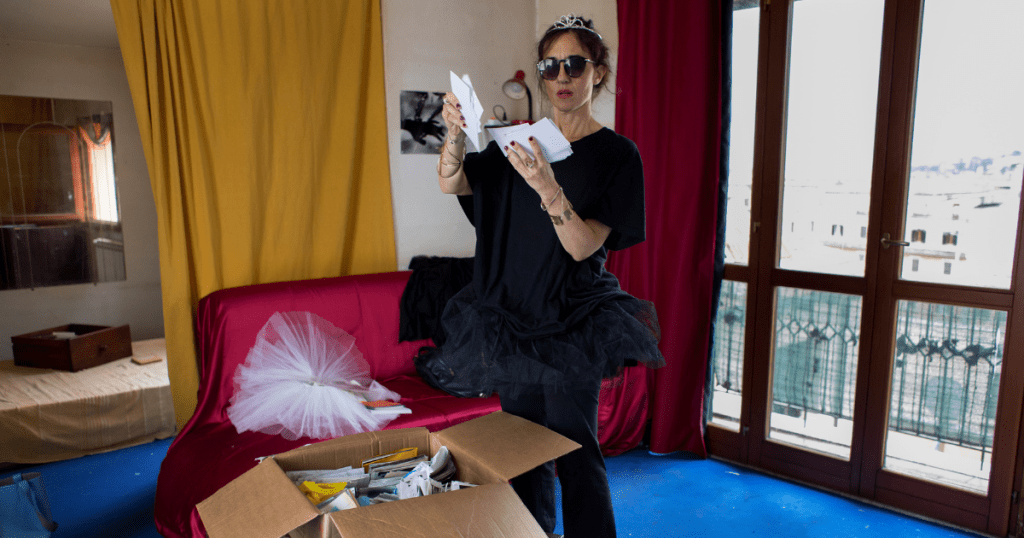 "The Palace (Unfinished)" is Federica Di Giacomo's documentary about a building in Rome that served as an artist colony for an experimental filmmaker and his friends. After his death the group reunites to consider completing his long unfinished film. More an improvised re-enactment than a documentary, it's a wonderful portrait of the joys and headaches of artistic collectives, no matter that the leader wasn't a very good filmmaker himself!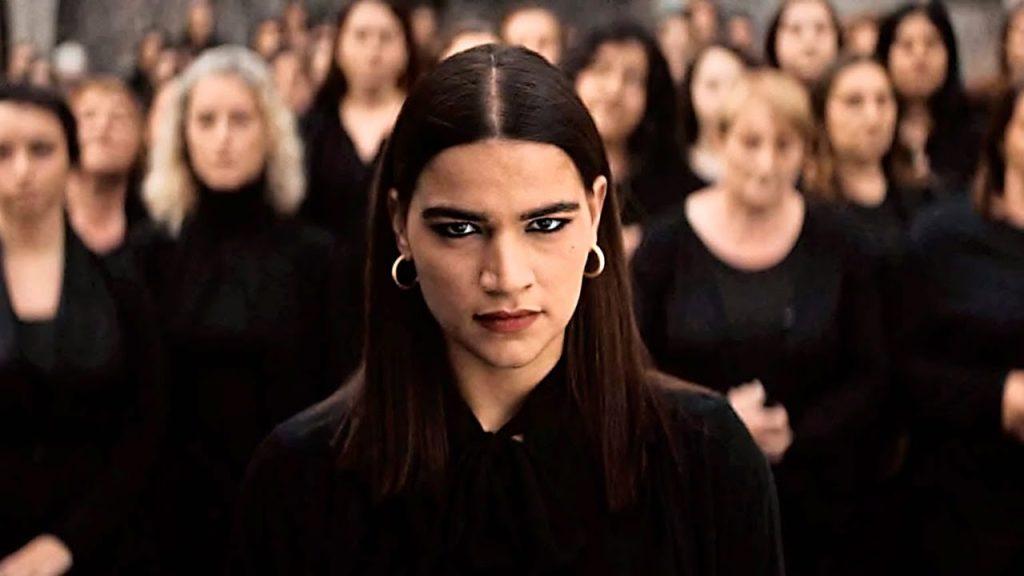 "Una Femmina – The Code of Silence" is a haunting and grim true story about Rosa, a young woman in the Calabria region of Italy who learns the truth about her mother's death and refuses to accept entry into the vicious 'Ndrangheta crime syndicate her family has been part of for many generations. These people make life as a Soprano look cheerful!
Francesco Costabile's masterful feature debut is based on Italian journalist Lirio Abbate's book about "rebel women" from 'Ndrangheta families who spoke out and collaborated with the police. Lina Siciliano's portrayal of Rosa is riveting, though sometimes frustrating because her character often chooses a petulant silence to express her hatred of the family members who hide the truth about her mother. This especially enrages her male elders and the rival drug lord who wants to force her into marriage.
Go here to read about the entire slate of films, which also includes a retrospective screening of Antonioni's 1964 classic, "Red Desert."