A friend of mine used to live in Manhattan's legendary Chelsea Hotel and one day he got a call from Patti Smith. It turned out that he had been living in the room once occupied by Smith and Robert Mapplethorpe in the 1960s. She was writing her 2010 book about the period, "Just Kids," and wanted to be alone in the room for a few hours to bring back memories.
Built in the 1880s, the 250-unit Hotel Chelsea was a low-price permanent residency hotel for many illustrious guests over the years, including Dylan Thomas, Arthur C. Clarke (he wrote "2001: A Space Odyssey" there), Alan Ginsberg, Arthur Miller, Bob Dylan, Janis Joplin, Virgil Thompson, Jimi Hendrix, Madonna, Tennessee Williams and many more. A designated New York City landmark since 1966, a major renovation of the past few years included an effort to remove many of the permanent residents. "Dreaming Walls," a documentary co-directed by Maya Duverdier and Amélie van Elmbt, is a sensitive portrait of several of the dwellers, most of them elderly artists resisting being kicked out of their beloved home. Screened at the Tribeca Film Festival last month, it will be available on VOD beginning July 8.
Principle among the artists is choreographer Merle Lister Levine (Abel Ferrera also interviewed her for his 2008 documentary Chelsea On The Rocks), a tenant since the '60s. Like most of the long-term residents, she has been moved to the first floor and must use a new elevator reserved for them. She queries the workers who are upgrading most of the building for luxury rentals, even dancing with one. Later she works with dancers to re-enact a performance she did in the beaux-arts stairs of the building years before. In another scene she dines with Zoe and Nicholas Pappas, the rare neighbors who welcome the renovation and quarrel with those who resist it. The rent, they observe, will be going up from $317 to $517 a month–ridiculously low for Manhattan but then most of these tenants live on fixed incomes. Merle, meanwhile, thinks ghosts are behind the construction delays. Another resident says he feel like he is "witnessing the slow-motion rape of the building."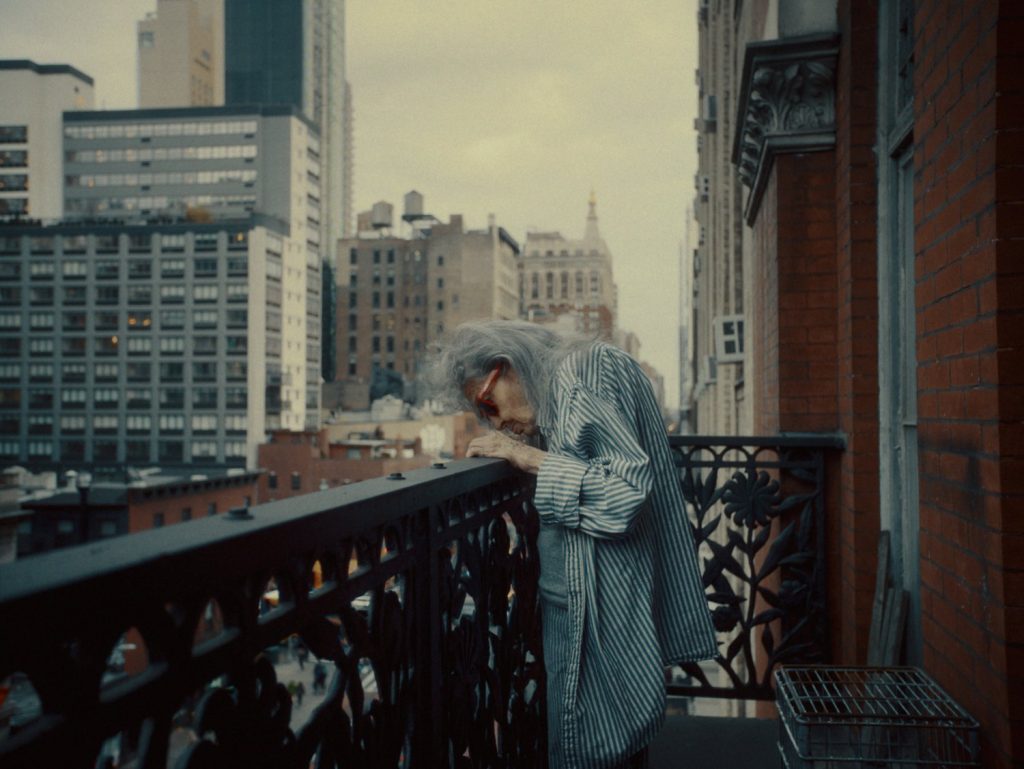 Other tenants include wire sculptor Skye Ferrante, Susan Kleinsinger and her partner Joe Corey. Archival footage of the previous manager Stanley Bard is used to contrast his careful curation of the artist colony atmosphere of the hotel with the policies of the new owners. And finally there's the building's oldest resident, photographer Bettina Grossman, who was also the subject of Corinne van der Borch's 2010 film Girl With Black Balloons.
These portraits are inter-cut with vintage footage of Warhol's "Chelsea Girls" and other works made by artists who lived there being projected onto the walls to a serene score by Michael Andrews. Earlier this year the renovation was completed and the hotel was reopened. "Dreaming Walls" joins a handful of valuable documentaries serving to protect the rich history of the legendary residence Leonard Cohen referenced in his great song "Chelsea Hotel #2," the temporary or permanent home for so many creative people.