I just re-watched a good part of Mark Cousins's landmark documentary series, "The Story of Film" (more about that soon; it's been re-released in a new blu-ray edition) and while watching "Remembering Every Night" I couldn't help but respond to it in my mind the curious way Cousins narrates his series. ("Remembering Every Night" opens Friday, September 15 at the NYC's Film at Lincoln Center.)
"And look at this," he would begin in his quiet, almost whispering Irish accent. "Shots of various places in a beautifully landscaped neighborhood of Tokyo. The present day. A middle-aged woman named Chizu (Kumi Hyodo), who recently lost her job, finds an old postcard inviting her to visit an old friend who has moved nearby. She sets off to do just this but gets lost and wanders around for hours. She climbs a tree to help some children retrieve something but they abandon her! And who is this younger woman (in her 30's), Sanae (Minami Ohba), working as a gas meter reader, who sees Chizu in a tree? And here's Chizu later, in a field copying the dance moves of a third woman, 22-year old Natsu (Ai Mikami), who she spies on from a distance."
"The neighborhood is called Tama New Town and it was built in the 1970s as Tokyo's largest residential neighborhood. It seems very safe with plenty of trees and vegetation. Truffaut once said that what was missing in contemporary Hollywood (he was talking about the 60's and 70's) was 'the wind in the trees.' 'Remembering Every Night' is full of wind in the trees. But there's also a kind of sameness that, as a minor character points out, makes it hard to find your way around the neighborhood. As the three women of three different generations make their way around Tama we're given plenty of time to think and feel about people in landscapes, how they relate to them, how the space limits and extends their lives."
"This is the second film by young Japanese director Yui Kiyohara. She grew up in Tama New Town and says that the consistency of the town's scenery makes it seem like a movie set. But it's not like the desolate low-income housing projects we think of in the United States. Yui says that women living there made many improvements over the years. These women, however, seem isolated, unable to connect to each other or their environment."
I'm not as gentle a soul as Mr. Cousins, so there are a few moments in this challenging but vastly rewarding film that strained my patience just a bit. Like when Chizu suddenly realizes it is her birthday during a visit to the unemployment agency. Is she suffering from early dementia? Why did she wait so long to visit her friend? She's a gently comical figure in a way; you want someone to help her, the way Sanae does when she identifies an elderly man who has gone missing in the neighborhood. I was fascinated by the way Chizu carries her handbag: hanging it over her right shoulder, reaching her left arm around her back and grasping the strap with her left hand. She is simultaneously open and guarded.
Natsu celebrates the anniversary of the death of a friend by picking up a long overdue roll of prints he shot of her and another friend playing with fireworks (sparklers). That night they repeat the private ceremony of sorts and this leads to an unexpected encounter with Chizu, who is still trying to find her way back home long after the sun has gone down.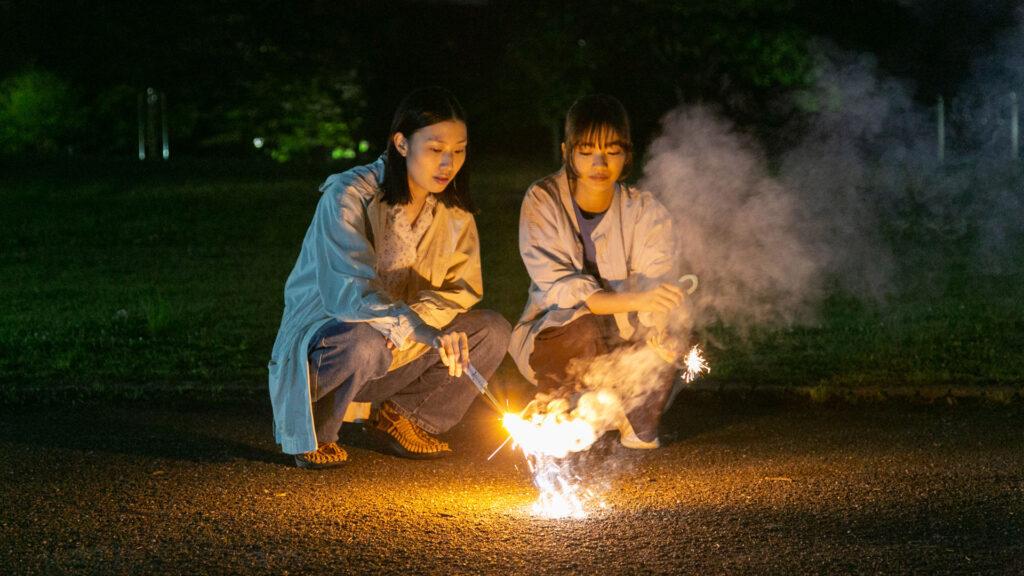 While all of the performances in this film are excellent, the main character here is the neighborhood itself. The shots are framed so brilliantly the film is at once a meditation on urban geography and the poetry of space itself. The film was well-received at both this year's Berlinale and Film at Lincoln Center's New Directors/New Films showcase and it portends a great career for director Kiyohara.
Both "Remembering Every Night" and Kiyohara's first film, 2017's "Our House" are playing at Film at Lincoln Center beginning tomorrow, Friday, September 15. Go here for ticket information.